NineQuest works with leading cloud providers to provide the most highly available and scalable cloud management solution for our clients.
NineQuest currently supports the following leading public and private clouds:
Founded in 1999, salesforce.com is the #1 CRM platform and the clear leader in sales, service, marketing and cloud platforms. Salesforce.com pioneered the shift to cloud, social, mobile and connected devices, and with this next generation of technology, our customers are connecting with their customers in entirely new ways. With salesforce.com's four product lines—Sales Cloud, Service Cloud, ExactTarget Marketing Cloud, Salesforce1 Platform—companies have the tools they need to transform the way they sell, service, market. For more information, visit Salesforce.com.
Amazon Web Services (AWS) provides Amazon's developer customers with access to in-the-cloud infrastructure services based on Amazon's own back-end technology platform, which developers can use to enable virtually any type of business. Since early 2006, AWS has provided companies of all sizes with an infrastructure web services platform in the cloud. With AWS you can requisition compute power, storage, and other services–gaining access to a suite of elastic IT infrastructure services as your business demands them. For more information, visit aws.amazon.com.

AT&T Synaptic Storage as a ServiceSM is a cloud-based, virtualized on-demand storehouse that easily scales up and down to any size your enterprise needs and allows you to pay only for the storage you use. Simply sign up, connect, and go. And, because Synaptic Storage as a Service is cloud storage, you can access your stored data from anywhere, anytime, through your web services applications. For more information, visit http://www.business.att.com.
Bluelock is an award-winning provider of cloud hosting solutions for the enterprise. Hosted in the public cloud, Bluelock Virtual Datacenters help companies get started quickly and deal with the unknown, while delivering the freedom to change their minds as IT needs evolve. Bluelock is a long-term VMware service provider with a shared vision for cloud computing and was one of the first certified VMware vCloud Datacenter service providers. For more information, visit http://www.bluelock.com.

Cloud Central is Australia's first provider dedicated solely to providing the best on-demand infrastructure solutions in the cloud. Cloud Central has built their cloud servers on a customized version of Xen, which provides for complete isolation at the network, compute, and storage layers. Their state-of-the-art data centre can meet your every need for a reliable, scalable, secure, and available infrastructure that you can count on. For more information, visit www.cloudcentral.com.au.

CloudSigma AG, based in Zürich, Switzerland provides a pure Infrastructure-as-a-Service (IaaS) platform offering high security, flexible cloud servers. CloudSigma is designed to make cloud computing and cloud hosting straightforward. High availability redundant infrastructure is backed up by a generous Service Level Agreement that covers not only availability but also performance. For more information, visit www.cloudsigma.com.

Citrix CloudStack is an open source software platform for building highly scalable and reliable cloud computing environments. With CloudStack, customers can quickly and easily build cloud services within their existing infrastructure and start realizing the benefits of this transformative service delivery model within minutes–without the overhead of integration, professional services and complex deployment schedules. For more information, visit www.citrix.com/cloudstack.


EMC Atmos is a multi-petabyte offering for information storage and distribution. Atmos operates as a single entity, while its revolutionary use of metadata and business policy gets the right information to the right location, at the right time—automatically. These qualities combine to increase your operational efficiency, reduce management complexity, and save you money. For more info visit www.emc.com.
Eucalyptus Systems develops enterprise-grade technology solutions built on the open source Eucalyptus software for private and hybrid cloud computing. Originally developed as part of an academic research project, Eucalyptus technology is quickly becoming the standard for on-premise cloud computing, delivering the cost efficiencies and scalability of cloud architecture with the security and control of deploying on an organization's own IT infrastructure. Eucalyptus Systems' mission is to support the open source Eucalyptus platform and to deliver private and hybrid cloud computing solutions for large-scale enterprise deployments. For more information, visit. www.eucalyptus.com.

GoGrid is a Global Leader in Cloud & Hybrid Infrastructure hosting. GoGrid enables sysadmins, developers, and IT professionals to create, deploy, and control free f5 load balanced cloud infrastructures and complex hosted virtual server networks with full root access/administrative server control. GoGrid physical and virtual server instances maintain industry standard specifications with no requirement to learn proprietary standards. Deploying GoGrid infrastructure using a Standard or Partner Server Image takes minutes via a web control panel or GoGrid's API. GoGrid gives users the control of a familiar datacenter environment with the flexibility and immediate scalability of the cloud. For more information, visit www.gogrid.com.

Google Storage for Developers is a service for storing and accessing your data on Google's infrastructure. The service combines the performance and scalability of Google's cloud with advanced security and sharing capabilities. Google Storage provides fast, scalable, highly available object store with easy, flexible authentication and sharing. For more info visit http://code.google.com/apis/storage.

Designed with OpenStack™ technology at the core, HP's open, transparent architecture ensures no vendor lock-in, improves developer productivity, features easy-to-use tools for faster time to code, provides access to a rich partner ecosystem, and is backed by exceptional customer support. HP's initial offering includes on-demand compute instances or virtual machines, scalable online storage capacity and accelerated delivery of cached content to end users. HP's full suite of public cloud services will enable the next generation of web services to be built, run and scale on a global basis backed with a broad marketplace of analytics, tools and services. HP's cloud supports customers with a differentiated hybrid delivery model, providing interoperability and portability across public, private and managed clouds. For additional information visit hpcloud.com.

Joyent Cloud is an IaaS provider offering a public cloud designed specifically for real-time applications. Joyent Cloud is built on SmartOS, a carrier grade operating system that incorporates the ZFS file system, DTrace, Node.js debugging tools and other technologies that deliver on-demand scalability, low-latency, security and data resiliency. Joyent Cloud powers leading applications in mobile, online games, social networks and ecommerce such as Voxer, Kabam, LinkedIn, and Gilt Groupe, respectively. On the Joyent Cloud, you can develop, launch, scale and optimize cloud applications for superior end-user experiences. For more information visit Joyent Cloud.

Founded by the team that developed the industry-leading Amazon EC2, Nimbula delivers a comprehensive cloud operating system that uniquely combines the scalability and operational efficiencies of the public cloud with the control, security and trust of today's most advanced data centers. Nimbula was named one of the most promising startups in The Wall Street Journal and was dubbed "one of three cloud properties ready to burst" in Fortune. Nimbula is headquartered in Mountain View, California and has an office in South Africa. For more information, visit http://nimbula.com.


OpenStack™ is an open-source cloud platform designed to foster the emergence of technology standards and cloud interoperability. Rackspace is donating the code that powers its Cloud Files and Cloud Servers public-cloud offerings to the OpenStack project. The project will also incorporate technology that powers the NASA Nebula Cloud Platform. Rackspace and NASA plan to actively collaborate on joint technology development and leverage the efforts of open-source software developers worldwide. For more information, visit www.openstack.org.
The Rackspace Cloud provides on-demand scalable website, application and storage hosting backed by Fanatical Support®. Through its suite of cloud solutions, Cloud Sites™, Cloud Files™ and Cloud Servers™, The Rackspace Cloud enables astute developers and IT managers to minimize the hassles, upfront investments and high costs associated with dedicated hardware while offering the ability to easily scale hosting resources. For more information, visit www.rackspacecloud.com.


Server Express is a leading provider of Cloud IaaS. Server Express enables you to quickly create your own private cloud with physical and virtual servers, and move your entire IT to the cloud. Server Express' dedicated cloud is a complete computing environment that you can fully manage and control while gaining new flexibility and scalability. Server Express enables your finance department to identify and control present and future costs for every component in your environment. For more information, visit serverexpress.co.il.
Terremark Worldwide (NASDAQ:TMRK) is a leading global provider of IT infrastructure services delivered on the industry's most robust and advanced technology platform. Leveraging data centers in the United States, Europe and Latin America with access to massive and diverse network connectivity, Terremark delivers government and enterprise customers a comprehensive suite of managed solutions including managed hosting, colocation, disaster recovery, security, data storage and cloud computing services. For more information, visit www.terremark.com.

VMware (NYSE: VMW), the global leader in cloud infrastructure, delivers customer-proven virtualization solutions that significantly reduce IT complexity. VMware vCloud™ Express is an Infrastructure as a Service (IaaS) offering delivered by leading VMware service provider partners. It provides reliable, on-demand, pay-as-you-go infrastructure that ensures compatibility with internal VMware environments and with VMware Virtualized™ services. enStratus supports both vSphere and vCloud Express from VMware. For more information, visit www.vmware.com.

Windows Azure is a cloud services operating system that serves as the development, service hosting and service management environment for the Windows Azure platform. Windows Azure provides developers with on-demand compute and storage to host, scale, and manage web applications on the internet through Microsoft® datacenters. For more information visit, www.microsoft.com.
Top PaaS, SaaS and IaaS Cloud Companies by CloudTimes
The image below illustrates the CloudTimes top list of cloud computing companies organized in three categories and their corresponding sub categories:
1. IaaS – Cloud Management, Storage, Virtualization, Content Delivery Networks, Networking, Computing
2. PaaS – Development & Testing, Integration, Database, Application Platform, General
3. SaaS – Business Management, Vertical Apps, Tools, Cloud Security, CRM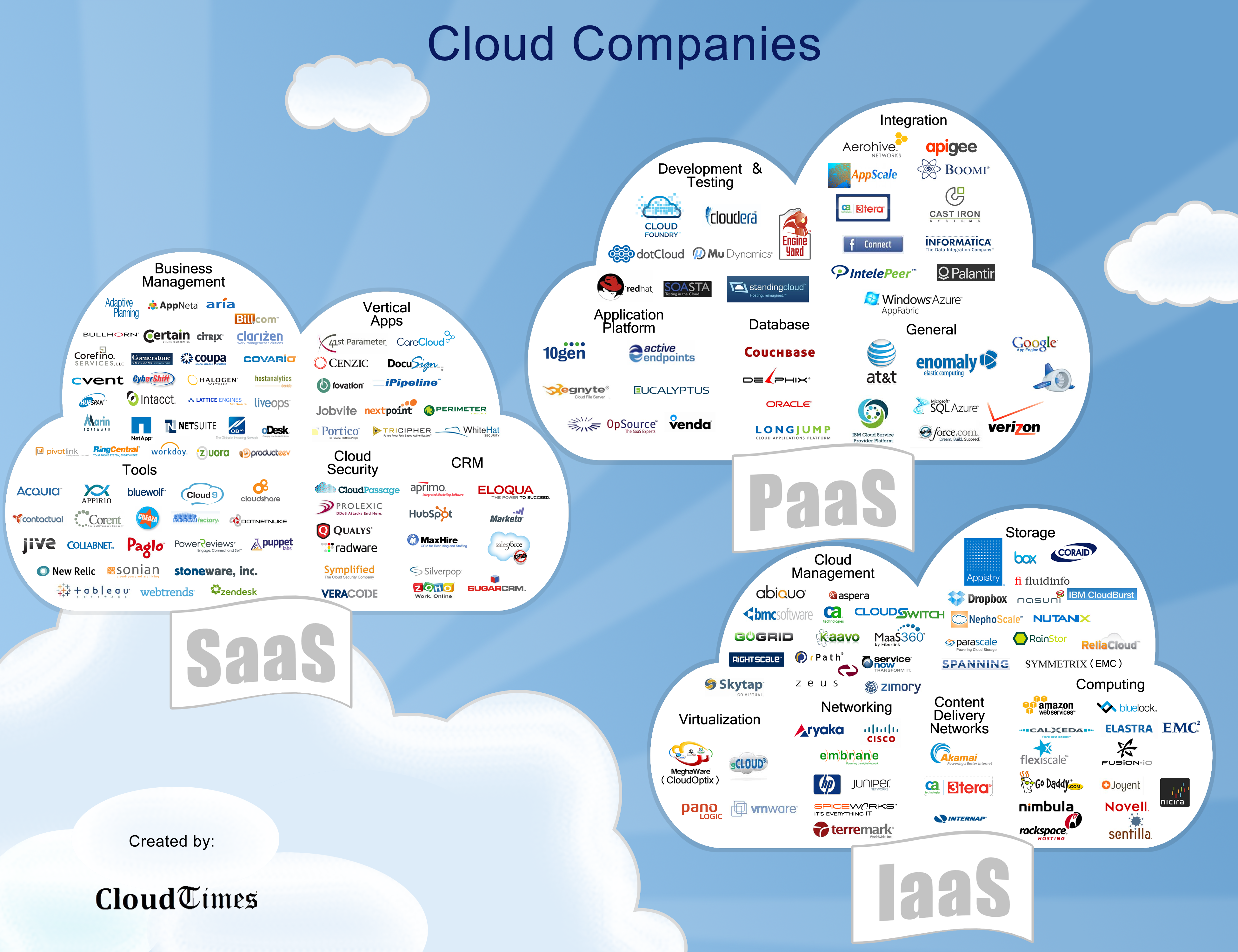 Click here for large image.
The family claimed
press the url
the honour of having given grand masters